Even the GPS Lady was carsick!
Triangle K Ranch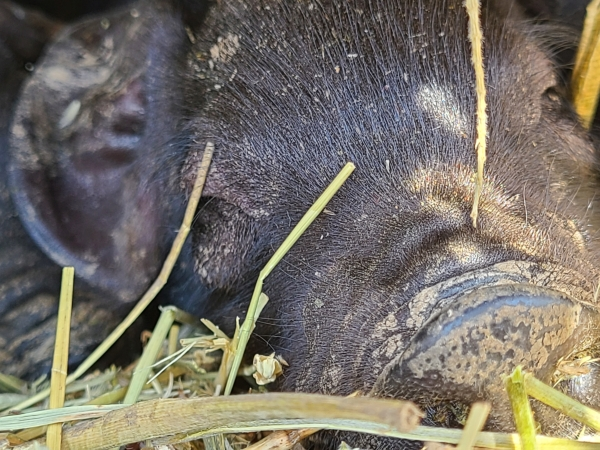 The road was so curvy that it would shake the kinks out of a snake. This is how Handsome Husband described the last leg of our journey to pick up our new boar. Rocky doesn't do well with curvy roads. He gets quiet and the odd belch escapes from his mouth. Then he grips the door handle, almost tight enough to unlatch; poised, ready to bail from the truck at a moment's notice.
Like most people, we relied on our GPS to get us to our destination. GPS Lady performed her job well untill the last mile of the twisty road, then her voice changed to that of someone who had a 3 pack a day smoking habit. Her voice did not return to normal until we turned off that road onto a straighter route. Now, Handsome Husband is saying that even the GPS Lady was carsick.
We enjoy these journies in the vehicle, our discussions range in topic from mundane chatter to heated political or religious discussions. Thankfully we see eye to eye on most subjects. What dominated this road trip was the appalling state of our roads. It seemed that construction projects were endless except where it was needed most. I thought I saw one pothole swallow Herbie (the Love Bug #53) WHOLE! We saw him pass and then "poof" he was gone. The number of broken down vehicles along the highway has increased as well. Resembling the numbers seen in the late 70's when we were kids.
We noticed the rocks. I love rocks. Along the highways when we were kids, we remembered when the blasting marks were fresh and the rocks were "new" and shiny. Now, most of the blasting rod scars are weathered away and the rocks are eroded by the exposure to the elements. These are the things HH and I talked about as we hurtle down the road at 70 miles an hour.
This journey brought us to a small farm in Kentucky not far from Mammoth Caves (we visited Mammoth Caves on our honeymoon 13 years prior). Finney Farm is owned by Casey Meek and family. He has three of the most adorable blonde sprites who were not at all shy. I enjoyed chatting with them as they told us about Gilbert, our new Majestic Large Black boar.
He was on a garden trailer with pipe gates and hog panels. It was one of the trailers that can hold a couple hundred pounds. A small pipe gate was at front near the hitch with two larger ones down the side. This structure was lined with cattle panels cut to fit. The gate was the back of this contraption. What a perfect way to transport him to our trailer. The ramp/gate of the light weight craft fit perfectly as a walkway for the boar to enter our trailer. Rubber pads were laid on the floor to protect his feet from the metal of the trailer bed. We have already discussed how we can recreate something similar at our farm. Bio-security is a major concern these days with the African Swine Fever running rampant around the world. Thankfully no cases have been reported in North America and I don't believe any cases have been in South America since 2007.
This "Hog Hopper" is a great way to prepare for an upcoming sale of a larger animal without having people traipse through your barn. We have always had an open door policy except don't wear your chore boots into our barn without protection.These days we are beginning to be more strict with who comes into the barn. This is a sad statement for us because we have always been open about how we do things. We find with each person/farm we visit or who visits us, we learn something from the experience. Shutting the barn doors to potential customers probably will never happen completely but we will certainly require more vigilance whether it is the plastic boot sleeves (thick blue plastic booties that cover your shoes/boots to just below the knee. We also have Tyvek suits to protect clothing as well as the animals from anything brought in) or coveralls to enter the barn area.
Some farms have extreme bio-security measures and even those in Europe are seeing outbreaks of ASF. A recent article in Pig Progress stated that flies were the culprit. Is anything 100% secure? Never, especially when it comes to living, breathing animals. Life is unpredictable, but we can all take steps to minimize the dangers of unpredictability.
MBR Majestic 1/6 8408 was born in May of 2017. He has a very nice CI number of 11.1% and is put together handsomely. He has already fathered 3 large litters of cross bred piglets. The largest of these litters being 13 if I remember correctly. He made the journey from his shaded hilly farm to ours without any issues. When he walked off the trailer into his quarantine stall, he was curious but followed our directions without fail. This is always a cautious time when bringing a full grown animal into an established farm. What is his personality like? Will he become aggressive because he is not familiar with us? What will he do when he is alone in his quarantine stall?
So far, Gilbert is acting as though he has never been anywhere else. His previous family loved him and appreciated his laid back style. I have no doubt that Gilbert will fit in well with us.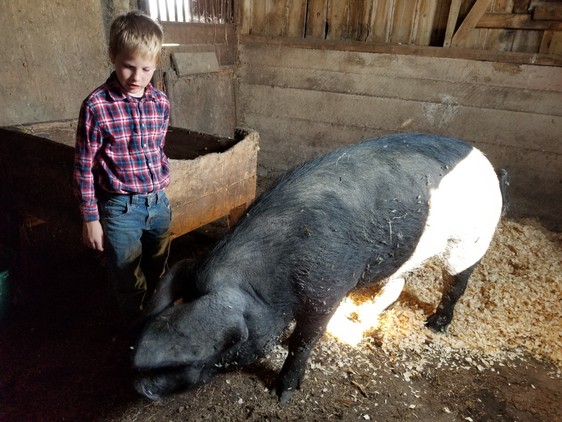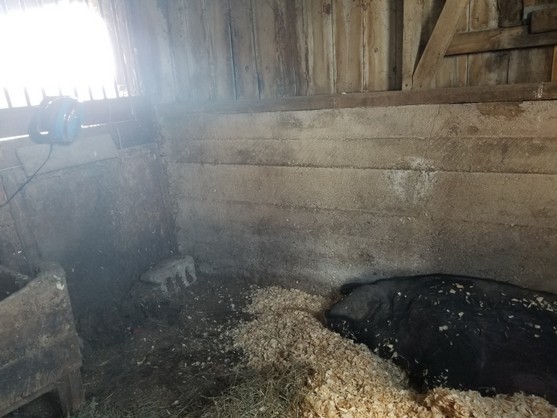 As you can see, he has a fan blowing cool air on him (well as cool as we can get at this time of year). He is relaxed and talkative. Gilbert is the only Majestic fully registered in 3 years with the LBHA. This means that even though he has full siblings or other farms may have had litters of Majestic boars, he is the only one who was registered. This is very important because the Majestic line is one of the least bred lines in the US. We need to make sure that his bloodline doesn't just disappear.
Gilbert pairs nicely with all of our girls, even the littles from the two newest litters of Defender/Charlotte and Defender/Warbler. I will be retaining at least one of the girls from the Charlotte litter to prepare to replace Char, my favorite girl, who is 8 years old now. We will be updating the website to show off our newest members on the farm. In addition to Gilbert, we also brought in a Prudence from New York and a Matilda from Indiana.