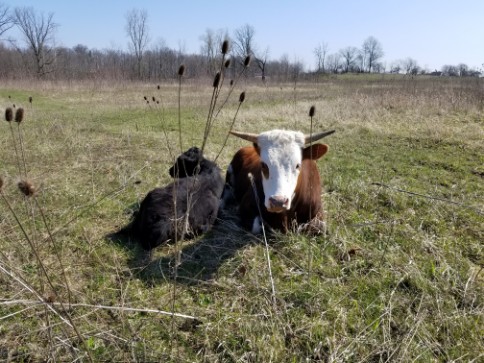 I love my cows (and horses, pigs, dogs, cats, kids). My cows have snuck into my heart in a way I did not expect. This evening (2019), these two ornery cusses decided to get into my tack room and decorate with some Christmas items I had in a box near the door. They helped open the ornament storage container, storing some Garland and attempted to wear a Santa hat. Handsome Husband called out from the kitchen asking if I want to good news or bad news first. "Give me the bad news.", I said. "Your cows are in your tack room.", he replied. I march down to the tack room and attempt to get everything back into the box, meanwhile, my steer (with horns) and my bull are staring at me innocently while attempting to sneak something else out from behind my back. The door handle felt a bit slimy like someone had used their tongue to open it. Will have to check first thing in the morning. The good news was that Handsome Husband loves me.
We have an eccletic mix of cattle. Most of our cows have at least some Dexter in them. Any calves born on the farm in the past few years have been from our Dexter bull, Otis.
His time with us is nearly at its end. He has been an excellent bull and has a sweet personality. But we have retained his offspring that is pure Dexter and need to bring in new genetics. Either that, or we go back to AI. I tend to get too attached to the animals and then do not want to move them to new homes when it is time.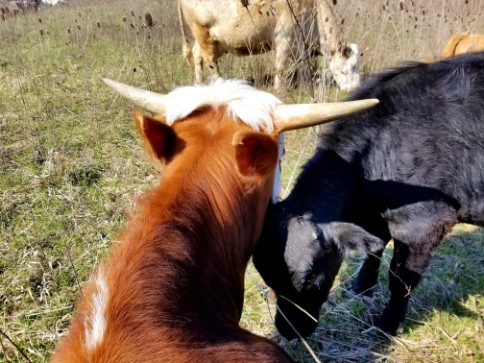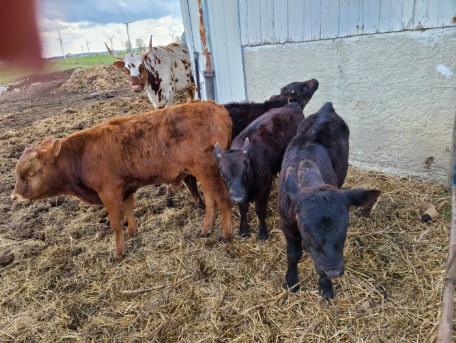 The make up of our herd is Mildred May Moo - Simmental-Angus (Lead Cow), Mavis Maverick - Normande-Watusi, Candi Cane - Dexter (our oldest cow), Ebony - Dexter-Lowline (this girl always looks pregnant and carries a good deal of muscle. This is an excellent cross.), Annika (Ana B) - Normande-Watusi-Simmental, Dolly Madison - Dexter, Otis (bull) - Dexter, Charlotte Flower - unsure of breed (a drive by drop off - her owner asked permission first), Clover Bud - 2021 Dexter heifer, Liberty Bell - 2021 Dexter-SimAngus, Sergio - 2020 Normande-Watusi-Dexter, Persephone - 2022 Dexter, Athena - 2022 Normande-Watusi-Simmental-Dexter, Dionysis (Bacchus) - 2022 Normande-Watusi-Dexter, Mars - 2022, Apollo - 2022 calf, Jupiter - 2022 calf.